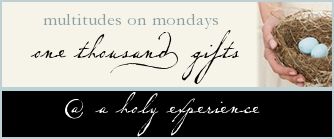 86~ the sound of the dryer running...doing work while I am not.
87~ the cooler temperatures today that made it feel like fall may still be coming after all.
88~ provision, just in time.
89~ actually making progress in small bits, getting my paperwork monster organized. Thanks to
Jessica
, I'm setting up a very handy notebook that she calls an HMG (not sure what that stands for) but I call a TLILMMBMTWHN ("Too Late, I've Lost My Mind, But Maybe This Will Help" Notebook)
90~ my snug little home.
91~ outrageously big and weird looking moths that we keep seeing everywhere, and keep getting a good laugh from. (It does not take much to entertain this crew.) Has anyone else seen strange looking moth / butterflies around? They look normal at first until you look closer and see their bodies are built like a Mack truck. Crazy. And funny when you're bored.
92~ my sweet daughter-in-law who sends me pictures of the cutest baby in the world to brighten up my day! Love you, Abby!
93~ answers to prayers. Including the answers that are still on the way. I can't wait to see what you'll do, God!