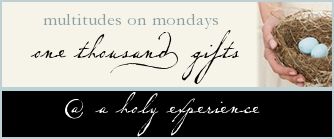 76~ Abbie beginning her prayer with "God, You are my Father"... I don't know; something about hearing your child say those words makes a parent more thankful than really anything else I can think of.
77~ A day in the sunshine. (An impromptu "let's go do something" remark led to my first day out in the sunshine in at least a week.) Watched the kids splash and play at Indian Springs state park and was overwhelmed once again with the recognition of all that I have.
78~ Remembering tonight that 21 years ago tomorrow I was a 17 year old girl, holding my first baby boy in my arms. I was completely oblivious to how the world worked, and how life would toss us around. I could not have imagined what the Lord had in store for my life or his, but I am so thankful that He knows all of our yesterdays and tomorrows. Happy Birthday, Mick !
79~ so fun watching Irene going wild for scrapbooking...I am happy
one of us
has time to do it!!
80~ a church meeting this weekend that reaffirmed to me how important it is that we BE the church. How important it is that the Gospel is the artery running through anything else we do.
81~ Electricity on ! (The power was out when we came home from Indian Springs).
82~ It needs saying again...can't be said enough. Friends. Who help you through the bad days. Friends that God sends, that love Him so much that they want to serve Him by loving me...it is so humbling.
83~ sisters who color pictures and mail them to your kids :) Thank you, Karen.
84~ my old quilt from Grandma Moore that is the coziest ever to curl up beneath, and remind me of when I was curled up beneath the very same one when I was 10, at her house.
85~ "To know and follow hard after You, To grow as Your disciple in Your truth. The world is empty pale and poor, Compared to knowing You my Lord, Lead me on, and I will run after You."