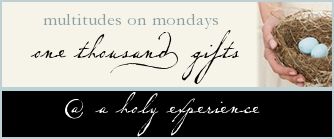 I found Ann Voskamp's blog because I am using her Geography curriculum, and I loved her ability to use words with such beautiful craftsmanship. I went looking around to see if she had a blog and, lo and behold, she has a beautiful blog that always says something that inspires me. Ann has a new book out titled "One Thousand Gifts", which is on my wishlist on amazon at this very moment, but I have not read yet. She is asking others to join her bandwagon with posts of thankfulness for the many wonderful gifts our Lord has poured out on our lives, so here begins my list:
1. A Snow Day, on which I do not feel the slightest bit of guilt or remorse to take the time to begin something new on my blog, sit a few extra minutes (hours?) in my pajamas with my coffee, and listen to my little girls chatter about plans for popcorn and hot cocoa after they come in from playing in the snow.
2. An overwhelming feeling of gratitude that God ever whispered my name in the first place. How could I have ever known this amazing Love that was in store for me?
3. Sisters. Not only biological sisters, whom I love very much, but my spiritual sisters who live life and love God alongside me. To understand that I will never know all of the times that prayers were offered up on my behalf is such a humbling thing, and to know that there is a whole legion of women who are connected to me because we share the same Father; a Father who has loved us so well that He has shown us how to open our hearts enough to love others a small bit like He does. It really and truly amazes me, and how exciting that I can even call my daughter my spiritual "sister" ! I am so thrilled at the idea that through God's faithfulness we will one day have a family legacy of generations of "sisters" who have loved God's Word and walked in His Spirit. Just to think of great- great grandaughters who will call on cousins and sisters to pray for one another and walk with each other through all of the mountains and valleys of life....amazing to me!
4. A twelve year old boy who still says good morning and gives me a hug.
5. Monkey bread ( no further explanation needed!) : )