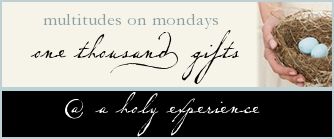 136~ a safe trip to Lookout Mountain, Georgia and back (God provided for all that we needed when I had only $15 in my pocket for the trip up! Thankfully payday came before the trip back home.)
137~ We had such a fun time camping ...the first two days, that is. Rain came the second night and next morning. But most of it was a blast, when I managed to stop gritting my teeth and just enjoy! After hiking all day, I have never tasted anything as good as those hobo packets we made!
138~ Nature walk treasure hunt on a cool fall day
138~Rachel was accepted to Covenant College! Although we have decided after visiting that she will need to wait on the Lord to provide the right opportunities for her and she will not be going to CC right away, we are so excited and proud of her that she worked hard on improving her SAT & ACT scores to the point that they met CC's requirements. This is an accomplishment!
139~ Sound of geese flying overhead as they head south
140~ the scent of cinnamon in the kitchen from the cinnamon broom I smelled in Publix and just couldn't walk past!
141~ A board game from our food co-op that is about Exodus, which we are reading about right now. It makes me so happy that God cares about those details of our life!
142~fun making little "acorns" with Abbie & Irene out of Hershey kisses and Nutter Butter minis. So much fun for them!
143~ this one is old but deserves a belated mention...friends (you know who you are!) who so kindly let me into their homes for a hot shower when I had no hot water!
144~ In the same vein, still more friends (you also know who you are!)who offered their homes for food, showers laundry and you-name-it when our plumbing problem left us temporarily without water...thank you does not say enough.
145~my sister who is so good to me and helped me out of a tight spot...thank you!
146~ This crisp, cool (even cold!) fall weather feels so good!!!!!
147~ 50 cent corndogs at Sonic equals one CHEAP DINNER (it's the little things!)
148~ The Lord answering prayers for a job for Michael (Jr.)...he got the job with CSX. He is very excited, even about the location (Buffalo, NY). As a central N.Y. native, I am not sure he understands what he is in for in Buffalo, but I am so happy for him and know it will be an adventure. Thank you, God, for answering prayers and providing all that we need!