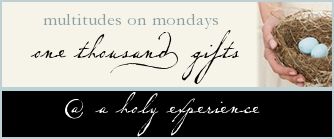 As always, so much to be thankful for:
113~ beautiful, round, gold harvest moon rising up as we ran around outside, laughing
114~ getting in a water bottle fight at the track with my 3 youngest. With as moody as 13 year old boys can be, it felt so good to cut loose and laugh and be silly, and watch him laugh too...what a great reminder that they love and need our attention so much, no matter how much they act like they don't.
115~listening to squeals (okay, maybe more like screeches) of little girls as they play hide and seek in the dark (in the living room!) at 10:00 at night
116~ safe travels of my daughter-in-law and granddaughter back to the east coast, with Michael soon to follow
117~ finally getting to the dentist after
20 years
without a cleaning. I am sure nobody will be getting close to me to chat after that little tidbit of information, but rest easy, they have now been cleaned!
118~ my mom being healthy & happy at 80 years of age
119~ 21 years of marriage...the ups and downs, ins and outs, the good, bad and the ugly...all a blessing and all to God's glory.
120~ cool weather, and the hint that fall is around the bend (even though the weather has turned hot again)
121~ It may sound strange, but I am so thankful that I have become painfully aware of how quickly our family is exiting the "baby years"... it has made me acutely aware of the speed at which the years with my sweet babies are speeding by, and to grab hold of all of the todays I can and store them up in my heart, knowing that all too quickly I will be in a different season and life will move on. Very bittersweet but I am thankful for God making me
aware
of it.