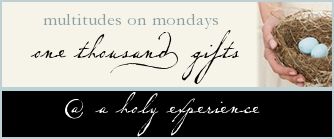 61~ Mike, who turns 40 today but gets no fanfare, because he is out working. Working, working working....although it is hard to have him gone so much, I am deeply thankful for a husband who is willing to give his best to take care of us. Wishing we could give him a bit more celebration today... but he will find this waiting for him when he comes home in the wee hours of the morning:
A few of his favorite things!
62~ finding old, forgotten toys when we clean out the bedrooms that provide an afternoon of occupied kids!
63~ an hour long chat with my mom today, to talk about quilt patterns for a quilt she plans to make for Rachel
64~ new life! The hope and the promise and the joy that it brings. It boggles the mind that God thought up whom He would create before time began, and that we are part of that plan, part of bringing into the world someone that HE decided to create! It is a reminder of what things are eternal, and what will pass so quickly.
65~ Money Makeover class at church, that is reminding me that we need a plan, and encouraging me and inspiring me to get back after that old ugly financial monster. I am thankful for honest and real discussion that points me back in the right direction.
66~ too many books on the shelves, that I need to give some away!
67~ the way the leaves on all of the trees in the back yard swoosh around when the wind blows hard
68~ a little note from Abbie (she had Rachel write it for her) that says "Mommy, I love you SO much. But I love God more. But I still love you a lot!"